One School One Book
Schedule
Monday, March 2nd ~ Chapters 1 & 2
Wednesday, March 4th ~ Chapters 3 & 4
Friday, March 6th ~ Chapters 5 & 6
Monday, March 9th ~ Chapters 7 & 8
Wednesday, March 11th ~ Chapters 9 & 10
Friday, March 13th ~ Chapters 11 & 12
Monday, March 16th ~ Chapters 13 & 14
Wednesday, March 18th ~ Chapters 15 & 16
On Thursday, March 19th there will be a fun wrap up to celebrate the completion of our book. Please watch for more details!
What is One School One Book?
For those who would like to know more about One School One Book , it's basically like one big book club for students from Kindergarten to Grade 4, along with their families and the Jennie Emery Staff. Each family will receive a copy of the book (title to be announced on Monday, March 2nd) and will be given a schedule to read it over three weeks. Your families book will be sent home with your oldest child in the school.
We hope that each family will take the time to participate in reading the book with their children at home.
How does the project work?
It's about all the students reading the same book, and getting excited about reading it aloud with their families. It is supposed to be a fun, worthwhile, family activity to read one book together. Therefore, we are encouraging parents to read the story aloud to their children. 
When the book comes home, there will be a reading schedule telling you which chapters to read on which nights. It will take about 10-15 minutes of your time on the scheduled nights.
At school, there will be trivia questions about the book to encourage and reward students for reading, and their attentive listening. Classroom prizes will be awarded for those who submit a correct answer! There will also be special activities happening at school around the theme of the book. 
We would love to see photos of you and your family reading! Email them to jeeattendance@pallisersd.ab.ca. ***Please let us know if you would not like your photos posted on our social media.
One School One Book is an exciting program to help promote reading and reading aloud with children. Reading professionals recommend reading books aloud that are beyond a child's own reading level. It is even helpful to read chapter books aloud with older children, even though they can read it themselves. We have chosen a book that can be enjoyed by younger and older students, with interesting topics of discussion that might come out of it.
Let's all get excited about reading one book in our school! 
Your One School One Book Committee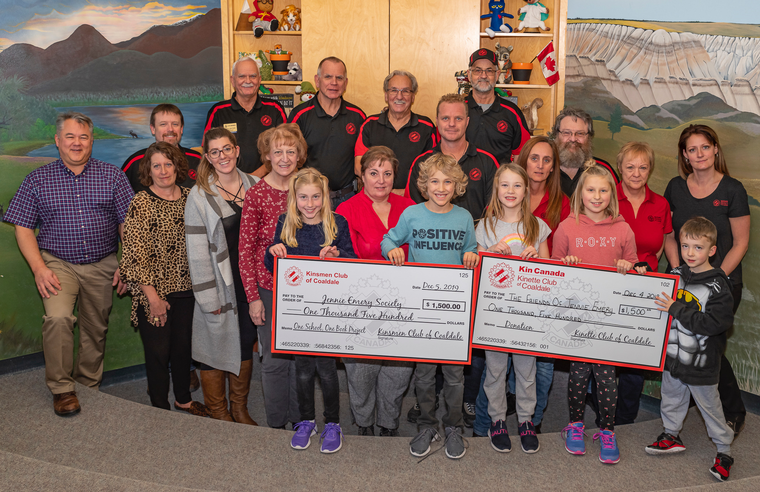 Photo Credit: Fused-Elements Photography 
Craig Sallenbach
http://www.fused-elements.com/
Jennie Emery Elementary School would like to thank The Kinsmen Club of Coaldale, and The Kinette Club of Coaldale for their generous donation!!
These donations will fund our upcoming "One School One Book" program that will be taking place later in the school year. Please watch for more information regarding the book choice and exciting activities!
Thank you Coaldale Kinsmen and Kinettes!